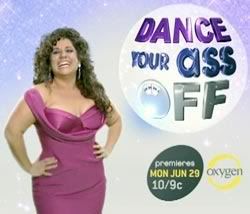 I must say I was in a a state of sheer bliss all summer watching Oxygen's "Dance Your Ass Off" The Weight Loss Dance Competition. The competition was a fun yet poignant discussion and attempt to make the American public healthy. It has become the inspiration that "The Biggest Loser" was before they began the "insert shameless plug here" game. A lot of people booo'ed the contestants revealing "dancing with the stars" -like outfits, but I thought it was a brilliant idea. Why hide the fat? We all know that's what you're there to lose! Didn't see it? I feel sooo... sorry for you! You missed great performances like this....
and great transformations like.....


that began as.....


Well our friends at Oxygen are starting the audition process for season 2! Wanna be amongst season 2's lucky 12? Log on for details!