I have been doing great with staying in my caloric range! I'm pretty dang proud of that and actually yesterday I stayed on the lighter end of the scale. It wasn't a problem until I woke up this morning freakin famished!!! Yeah that 1,336 calories is Just NOT enough!! But according to the great super computer of

SPARKPEOPLE

I was a lil low on carbohydrates. Maybe that had a little to do with it. But anyway this morning the furnace was really in need of some wood. LOL (Oh God that is soooo messed up) LMAO so I had a Big breakfast.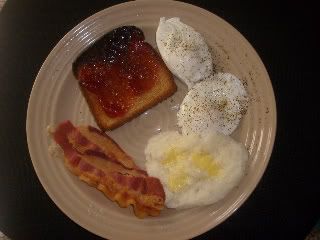 This was this mornings breakfast....excuse the toast I am actaully a great cook but I ALWAYS burn toast!! Go figure!:) 465 calories of furnace burning fuel....LOL just an update!