Okay so the BF is outta town with family and friends this weekend (Boooooo!) I'm still not used to the new place so this is very unsettling to be alone. So internet and cable have been my solace. I've just been watching Sex in The City and trying NOT to be scared of every sound I hear.


My sweetie bought me this...is it NOT the SHIT!!!!
anywho...So let me show you the products I got this week.



without flash


with flash

So yeah I got my pure luxe order I'm pretty much in love with the colors. Don't plan on using them yet though. I'm out of MAC Fix+ and I really don't wanna use water on my gorgeous new colors (don't wanna ruin them) Anyway I suggest all you ladies check out http://www.pureluxecosmetics.com I just began to have a little interest in mineral makeup so I decided to check these out. They have fabulous colors and those cute little samples I got are just $1.00 each! The colors are fabulous. Lately I've been big into shimmer so the ones I chose were heavy on that. I'm not big on swatches (actually I have never done one for camera until today, but here goes nothing......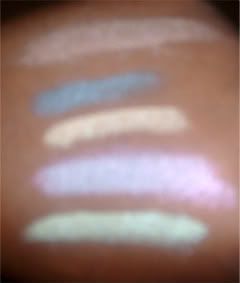 Color names from top to bottom w/ website description:


Chocolate Blueberries

: Muted brown base with blue interference.


Blue Jeans

: Medium blue with a brighter blue highlight.


BL Asp

: Blue version of Asp. Light taupe with sea green/turquoise interference.


Miss Understood

: A periwinkle blue shade. When the light hits it, the base color looks violet and has a violet flash color.


Mermaid

: Two-tone holographic color. Main color is a light seafoam green, the secondary color is a shimmering baby blue. When applied wet, the effect is reversed. Baby blue is the main color, with the green as the secondary color.

My pics don't do them justice they are wonderful colors. When I swatched I put UDPP on as a base and applied them with water, but I notice as I type and move they are easily rubbing off (boooo!) but the colors are just magnificent (oh well I guess everything has a pro and con) P.S. And I guess I will just continue using them with water since that's what the website suggested.

So yesterday was my dad's Birthday. I normally get in a really good mood on his birthday I tend to try to party it up for him. Do all the things he would do if he was still living. So my partying started at 11am. Sad to say I was ridiculously drunk by 2 pm. *smh* yeah I know pretty sad. My boyfriend was headed outta town and I figured I was to hung over to drive him so I had him drive there and me and my best friend tagged along and went to the MAC counter so that I can shake off my headache *yeah I know* Magically once I got to the counter my hangover was gone LMAO MAC tends to do that to me. Anyway I talked to the counter girl (Stacy...who by the way thinks I'm the funniest chick alive) and told her my issue with oiliness so we got a Blot Powder in Deep Dark. So far so good. I worked today and was kinda busy. Rippin around waitressing I tend to be a uber oily mess by the time I get home. Not so much today. But then again I did wear Monistat chafing get as my primer, and paired the Blot Powder with my MAC Select Sheer Pressed Powder in NW43.
Right now I have my heart set on a fresco rose paint pot and Dollymix Blush. Stacy wasn't a fan of the Blush on me, but dammit I need it in my life I think it's gorgeous on moi (as much as I think she rocks counter girls don't determine my fly ass style)


Yeah I didn't get much this week, so that's about it. Stay healthy and beautiful *muah*