So the BF is still gone and I am starting to like this whole time away thing (not too much though). This morning I decided I'd swing by somewhere I have't been in a long time....CHURCH! Yeah that's kinda embarassing to say, but I haven't showed my cute chubby face there in awhile. So I made it to service today.Umm yeah I haven't been to church in so long that my minister's wife took a picture of me (according to her everytime I show up I look WAY different LOL.
So after service it was nice to know I had me time so I hit up the outlet mall and got a few goodies.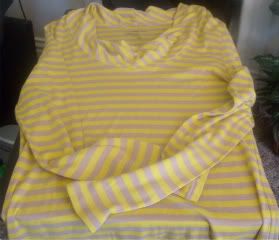 Old Navy had a bunch of stuff on clearance I got this shirt for $4.99 umm I don't dig it too much, but it works for work and hey it's only $4.99!
So then I had to hit up the CCO I didn't see much I wanted plus I still had on my heels from church and they were KILLING me. So I picked up a lipglass and jetted....Nico Now to be exact

It's a cute pink-blue with sparkles. VERY CUTE!!! I'm hella hungry haven't been too good to myself food wise. It's after 9 pm and I made some fish stick around 4 pm a serving size of 8 with a TB of ketchup so honestly I am famished....going to get some grub in my system....stay healthy and beautiful ladies